Welcome to SFY
Maximizing Insurance Claims Since 2009
Why pay an estimator's salary in the off season?
For less than the cost of a staff estimator, SFY supplements your jobs for you! We guarantee that if we cannot increase your job by at least our fee before the building permit, you will not pay for the Xactimate or Supplement. Instead of throwing mud at the wall to see what sticks, our team of estimators utilizes our experience to put together a legitimate estimate that you approve before it gets sent. What do you have to lose?
Are you tired of the insurance companies and the games they play to drive your profits down? Let SFY help!
From Xactimates and Supplements to Phone Calls and Claims Expediting, SFY helps you make every job profitable. We are proficient in manufacturer installation procedures, ICC and local building codes and Xactimate. SFY utilizes a database to keep detailed records of every email and phone call, making our twice weekly reports invaluable. You also get the added personal touch of an SFY estimator as your company's direct point of contact, ready and able to answer questions on every one of your jobs.
We want to get you more money, save you more time, and reduce your stress.
---
We focus on your profits so that you don't have to. With our no-risk guarantee, you can be confident that if we don't make you additional money, you won't pay for estimates or supplementing. Our combined experience has allowed our team to get good increases by noticing the details, by foreseeing the difficulties and by knowing local building codes. We have trained on the differences between insurance company procedures, tactics and when the job is eligible for O&P. As an added bonus, you will never have to call and wait on hold with a claims department or adjuster again! Your time is valuable, and the less time you spend working on the claim process, the more time you have to sell and provide quality service.
---
Experienced
in hail, wind, lightning, fire, smoke, flood, mold and vandalism.
---
Talented
Backgrounds in insurance, remodeling, construction, IICRC mold and water mitigation, and job management.
---
Skilled
with both Residential and Commercial properties and extremely detailed estimators coupled with relentless negotiators.
---
A Team
of insurance experts, dedicating their time and talents at making YOU more money.
Our Reports
We provide reports twice a week with detailed notes on each job. For more information on our reports, please contact us at the button below.
Contact Us
---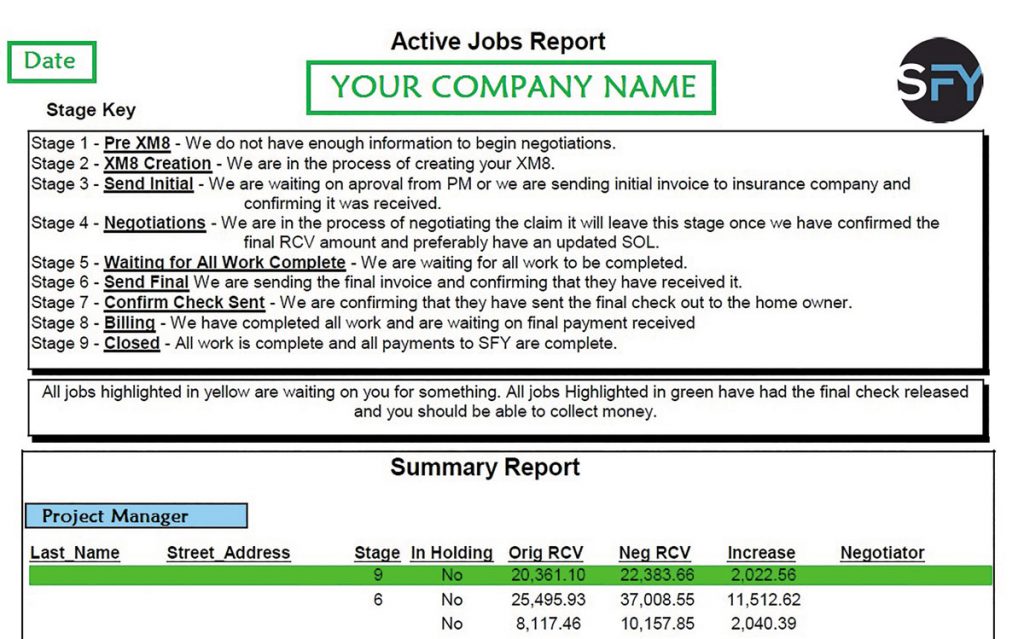 ---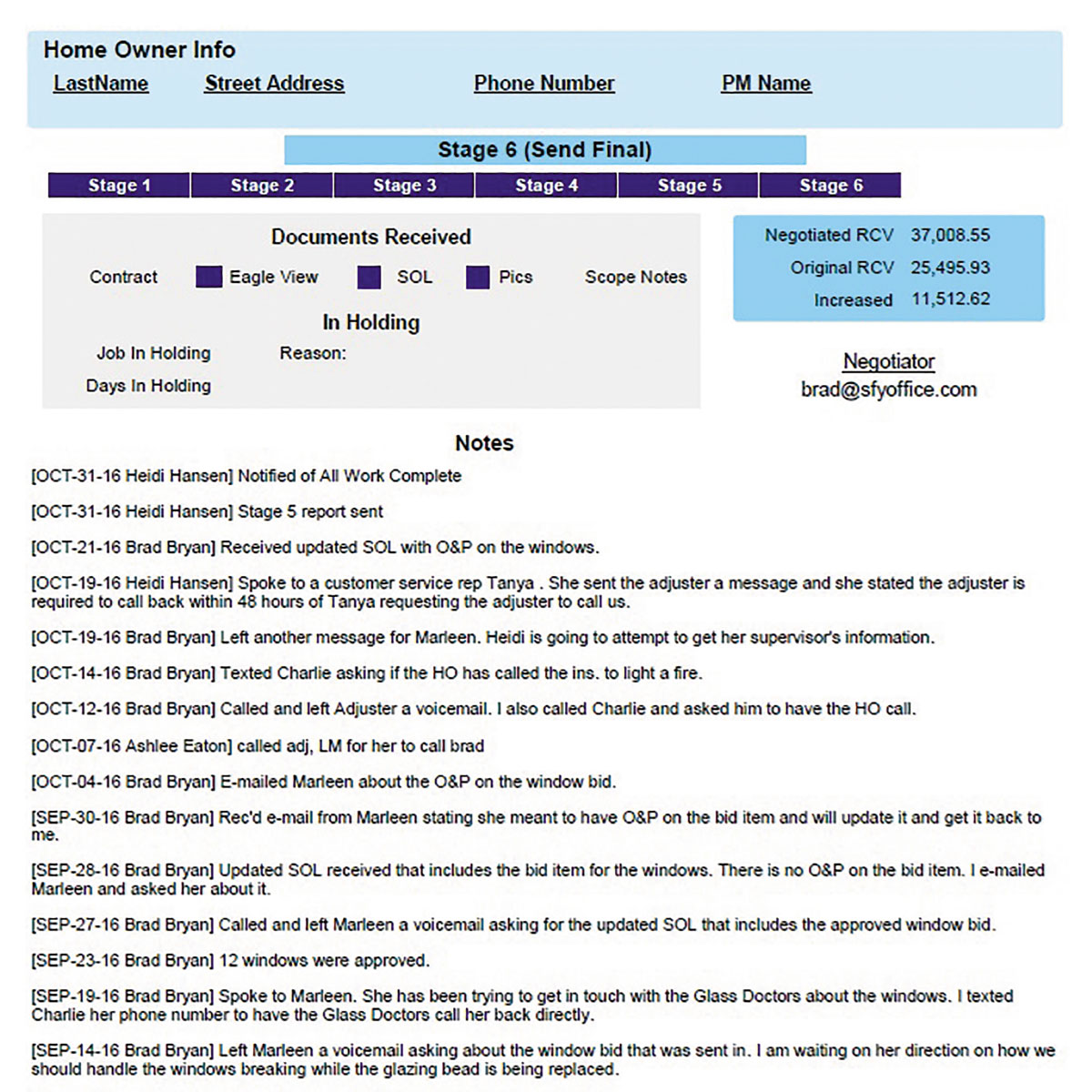 I tried several estimating companies before SFY, and I will never have to try another one. They are second to none on communication and follow-through. SFY is awesome.Joe P
Our Process
More than 90 years of combined experience!
Connector.

We are YOUR company's claims team, calling for YOU. We add to the expertise of your company and take a good amount of the stress and burden away from your staff.

Connector.

We create an Xactimate with your logo.

Connector.

When you approve the estimate, our team sends it to the insurance company and verifies that it is received!!!

Connector.

After 2 weeks, if the insurance hasn't reviewed the estimate, we escalate the process.

Connector.

Once you have completed the work, we can call the insurance and ask if the depreciation check has been sent.

Connector.

We take notes on every single email and call we make, and send you a detailed report twice a week.